The main purpose of this letter is assisting students that excel in their classes. They mainly help in recommending students to be accepted in special program, designed to give more and challenging opportunities in education. This kind of programs can be offered to middle school grades as well. When referring to letter of recommendation for Kindergarten student as guide, it will help you by making things easier, clearer, and simple.
Sample Recommendation Letter for kindergarten Student from the teacher
The teacher writes this letter referring to his or her student. Generally, the letter is used to assist the student when joining a high level of academic. The contents of the letter should include the character and academic performance. The teacher should be given adequate time to write the letter. The letter should have detailed information of the student. Mention all his or her character and performance in class. The letter should include the name of the person who will be reviewing the letter. Good and polite words recommending the students are very vital. Below is a sample letter to consider.
[03/09/20xx]
Dear [Mrs. John:]
Re: [Dan Daniels]
I am very proud to present letter of recommendation to you, after being with your child for six week in our kindergarten. You child have an outstanding ability the impressive aspects such as good communication skills. I have been teacher for long period, what I have seen is the capabilities of your child, he have contributed immensely both academic and participation on various activity.
We have fully imparted both academic and interaction with other students. I have been academic industry for long period of time, what I assure you is that he has grasped the concept and they can be easily applied in the academic life.
Your child has strong listening skills and ability to present variety of topics that composes much of what we have taught him. I would like to recommend him for a place in the elementary school. I wish him very best in his studies.
Yours Sincerely
[Dan Daniel's] Teacher
---
Sample recommendation letter for kindergarten student for private school
This letter is mostly for recommending a student a private school from a public school. Generally, private schools are very particular in, admitting their students. Unlike public schools, they have a committee that selects students joining the school. They have a different way of handling their affairs. Therefore, a good and detailed recommendation will go a long way. Make sure all the details of the student are not left out. Use good and polite words to convince the reader. Consider the below sample letter.
To whom it may concern,
Re: [Bunny Mary]
It is with great pleasure am writing to you this letter with reference to Bunny Mary. I would sincerely encourage you to accept her in your good private school. She is a student who has a great desire to learn. Her academic performance is outstanding. She has been leading in the class. Bunny is also very active in modeling.
I am very confident that she is a good student to have and motivation to other students. I strongly recommend her to your school. Hope you consider my request.
Yours sincere
[Monica James]
[Bunny Mary] teacher
Generally, kindergarten teachers do play a very important role. Giving humble time in their work is very essential.
---
kindergarten Recommendation Letter (Plus Guide)
---
Recommendation Letter For Early Entrance To Kindergarten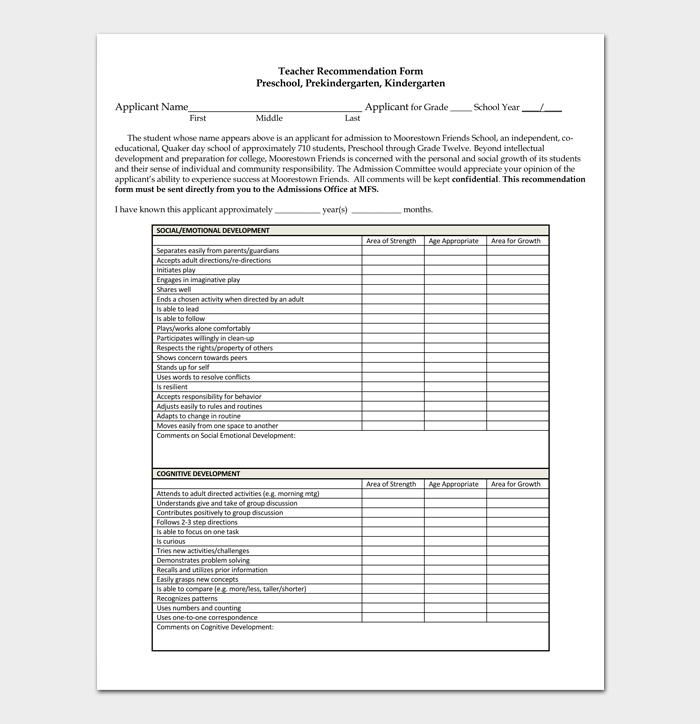 ---