What is an event outline? These often-overlooked documents can make the difference between mediocre businesses and great businesses. When company has a great idea and they want to keep the whole team on the same page, these outlines will keep everyone centered on this goal. By keeping these documents short, simple, and easy to follow, the team will know what their focus should be and they will be able to accomplish what is expected of them. Using an event outline template makes this process even simpler.
Picture a company in total chaos. They just created a huge event that should change their business for the better. However, the team is not working together and nobody knows exactly what this new event is for or how to get it done. By using an event outline template, a simple and clear program outline can be sent to the team members and everyone will know exactly what they should be doing and what the common goal is.
To help you get started, here are some samples and templates to help you create an outline for your event. Also listed are a few tips to help.
Event Planning Outline PDF Format
---
Event Outline Template PDF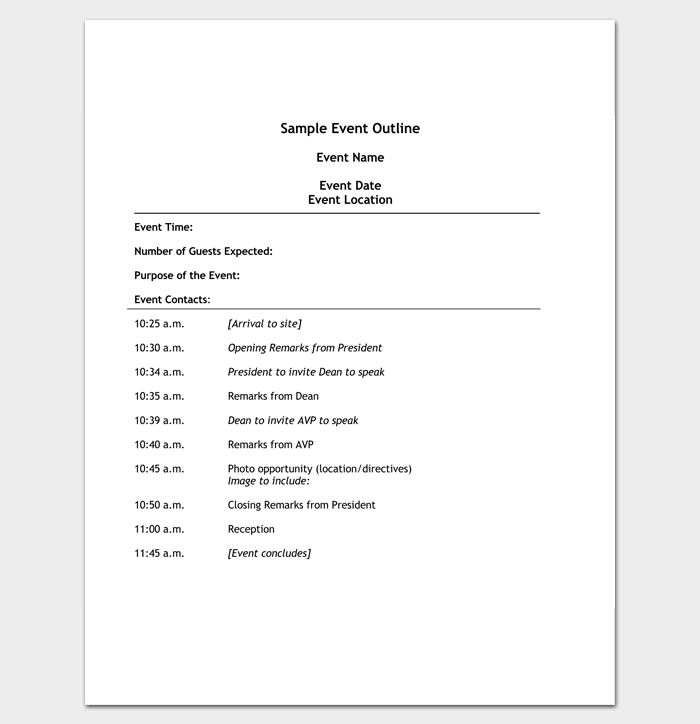 ---
Event Proposal Outline Template Word Doc
---
Event Plan Outline Template
---
Event Plan Checklist Template
---
So how exactly do you make a good event outline? The answer is a clear, precise, and short document which includes the following:
An event name: Something that is catchy and will capture what your event is about.
A date: Make sure nothing will interfere with your event such as holidays.
The location: Is it conveniently located for your target group?
A purpose: A short and powerful purpose statement will reduce misconceptions.
The rest of the document should include other details such as what exactly your event is going to accomplish, addressing the needs of your target groups, how you will help this need, the costs of the event, and other event specific details.
---
Sample Event Outline PDF
---
Sample Event Proposal Outline
---
Event Planning Template Word Doc
---
Event Management Plan Template (Plus Guide)
---
[ads]
Tips for writing an Event Outline:
Have a Plan – Give yourself time to plan ahead of time. When setting a date for your event make sure you have enough time to accomplish your goals. Depending on the event, you should leave about 4-6 months to plan.
Stand Out – Make your event stand out from the crowd. Using a unique name or tagline can set your event over your competitors. Also adding things such as logos can set you above the rest.
Make your Outline Readable – no one wants to read a 20 page book about your event. Keep it short and simple avoid jargon and everyone will be able to understand and remember your event program outline. You may also like to see a blank outline template.
[dmca]