A Biography is a written account of one person's life written by someone else. Most biographies are written about people of notable interest, and people who have made an impression on society that has lasted, or will last, long after the end of that person's life. Depending on the individual, their achievements, and span of life, a writer can easily find him/herself writing a long piece. As with writing anything, Biographies are no different in that the process and the author are both greatly helped by the Biography Outline, and Biography Outline Template. Because of the length any biography is bound to have the Biography Outline organizes the relevant information in the correct sequence for the writing process. The blank outline template gives the writer a general idea of where to start, what to include, and how best to complete the Biography Outline.
Every Biography, despite the type, is going to have some basic information such as; the name of the Biography's subject; their date and place of birth; who their parents are and what they did; childhood facts or stories; relevant information about the person's adulthood- assuming the subject lived into adulthood; the reason for this person's fame; facts about their current life or late life; and date and place of death, when applicable. The general outline for a biography can change depending on the needs of the writer, and the order can change as well if the central idea or theme requires this. Organizing the relevant information into a Biography Outline Template can guide the writer, and organize the writing process.
Here are some biography outline formats, samples and examples to help you with your outline.
Biography Outline Template for Word
---
Biography Report Outline Template for Word Doc
---
Biography Outline Format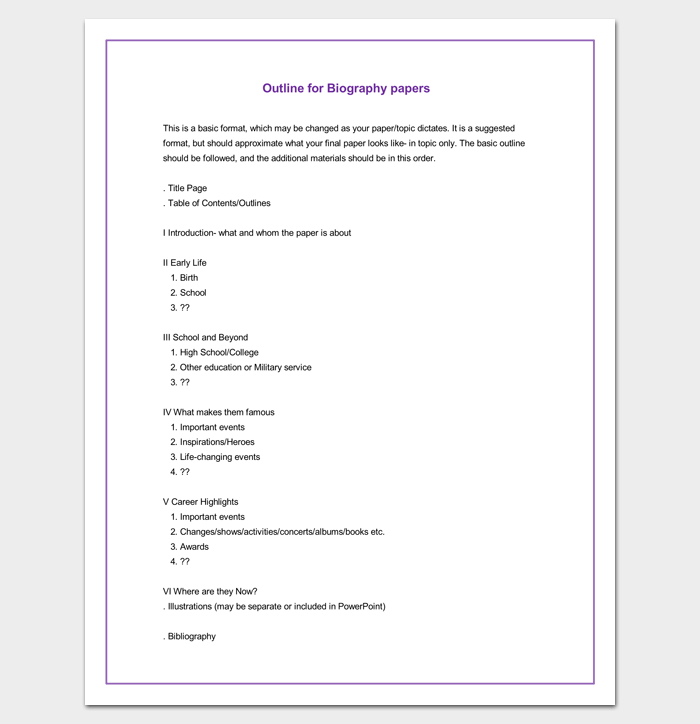 ---
Biography Outline Template for PDF
---
5 Paragraph Biography Essay Outline Format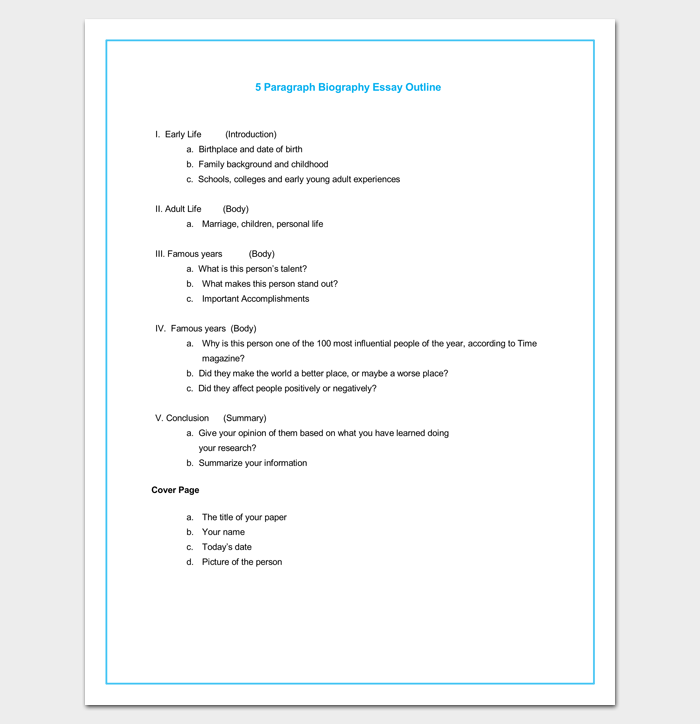 ---
Biography Outline 4th Grade
---
Biography Outline for 5th Grade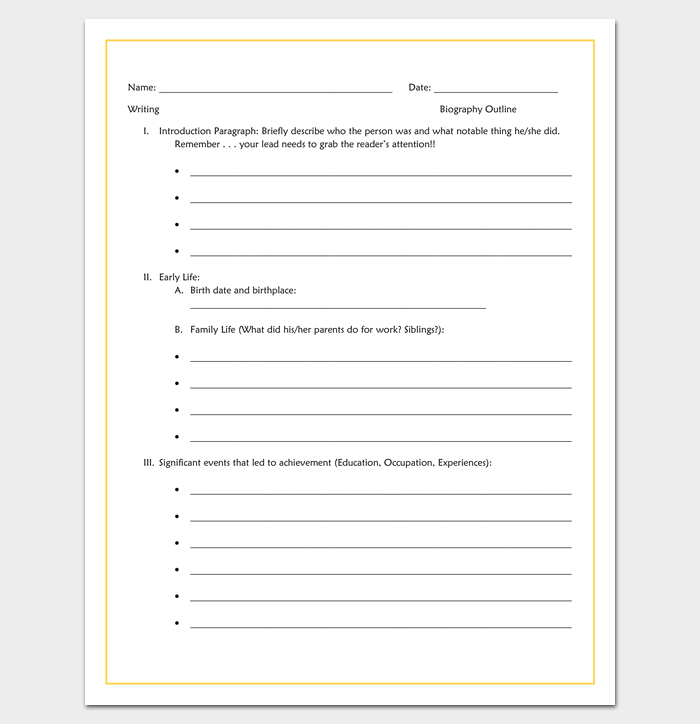 ---
Biography Report Outline Template for PDF
---
Biography Book Report Outline Template
---
Biography Outline Worksheet
---
Biography Outline Sample (Albert Schweitzer)
---
Shakespeare Biography Outline in PDF Format
---
Personal Biography Outline (+ How to Write Guide)
---
How to Write a Biography Outline in Microsoft® Word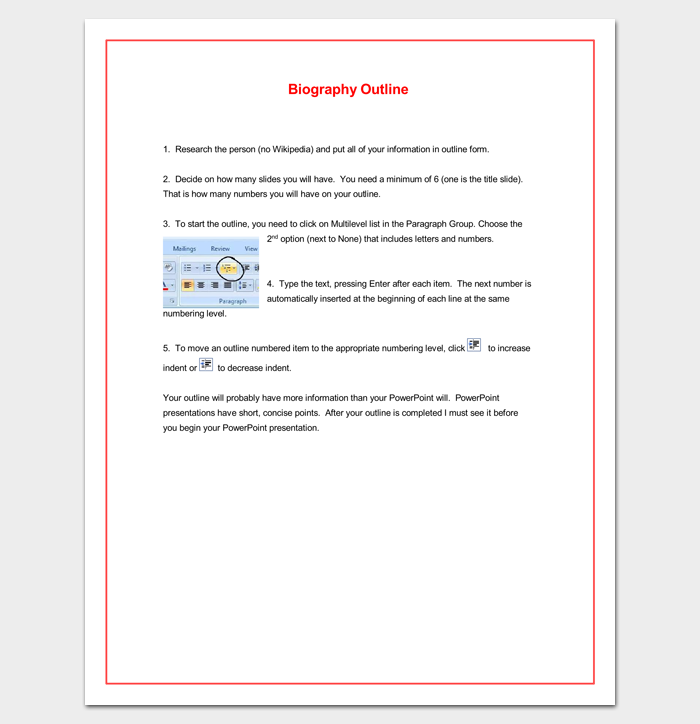 ---
How to Write an Outline
---
[ads]
Tips for Writing a Biography Outline
Organization is key- Because of the sheer volume of information an individual can accumulate within the span of a life, organization is key. Organizing facts, figures, demographics, and geographic information relevant to an individual's life makes notation during the writing process simple. This material should be compiled and organized before completing the Biography Outline for ease of use and access.
Chronological may or may not be logical- In most cases a biography will start at the beginning. However, if you find that the main idea or theme of the biography is better served by starting at another point, and working backwards, or across, then the outlining process will highlight this necessity for you.
Rigidity is not a virtue- Remember that the Biography Outline Template and the completed Biography Outline is malleable. Inflexibility breaks, whereas malleability bends. If a particular bullet point within the template isn't relevant, then don't use it. If, once your outline is complete, you find that changes need to be made then make them. The purpose of these tools is to provide a guided path for organization of thought, ease of writing, and time efficiency. They're not meant to be a train ride with no stops, or junctions. That would just be a wreck. you may also like literature review outline template.
[dmca]